History
 Dupree Sports was established in 1966 by Gordon and Jay DuPree. It was the first retail operation in Stillwater to silkscreen Oklahoma State University t-shirts and apparel. In 1983, the store was sold to Ed and Ann Watkins, who retired in 1999. The family business is now owned and operated by Chad and Paige Watkins and Jeff and Stacy Watkins.
Customer Service
 DuPree Sports & Screenprinting has been providing Oklahoma with quality sporting goods and screenprinting since 1966 with one goal in mind, customer service. Our in-house graphic designers will be happy to work with you to create custom screenprinted designs and sporting apparel. They can also work with you to create custom embroidery for any group or organization.
We are Oklahoma's Premier Sporting Goods and Team Sales Authority. No matter the team, the sport, or the need – we've got you covered.
Community
We know Stillwater, and the people of Stillwater. We're not a corporate company from out of state.

We're located in the heart of Stillwater – on the strip right next to campus, where all the action is happening!

Chad and Jeff both graduated from Stillwater High School and attended OSU

Family owned and operated since 1983

All together we have 50+ years of serving the community
Most of our store apparel is designed by our own designers. No one else in town has what we have!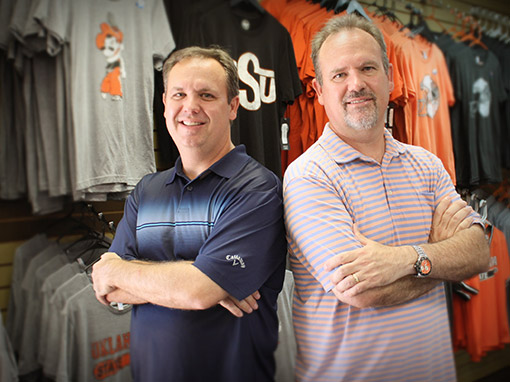 We know Stillwater, because we are Stillwater. Owners Chad and Jeff Watkins took over the family business in 1999 and have been part of this community their whole life. Both graduated from Stillwater High School and attended Oklahoma State University.